Building community through connections
Published by HealthFitness on July 12th, 2021
In the spring of 2020 HealthFitness pivoted quickly to support our clients and their participants and provide them continuity in health and fitness programming. At that time, we were filling an immediate need and making the best of the situation.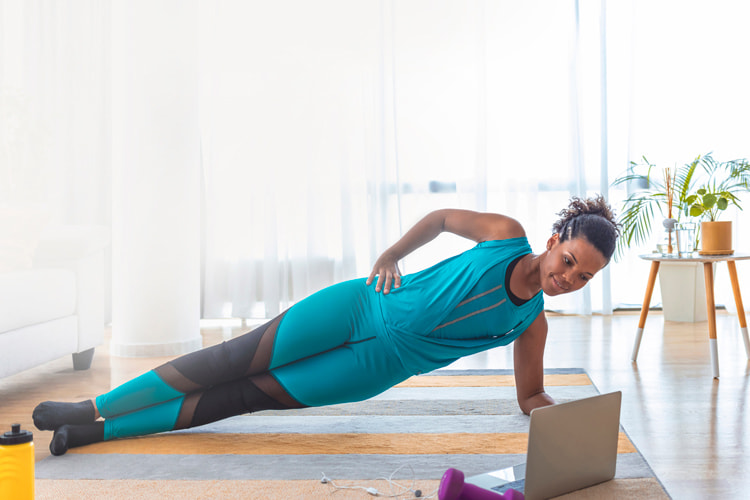 As the pandemic progressed, we saw an opportunity to develop a more comprehensive solution, one that provides an optimal participant experience that was accessible, motivating and engaging. We then created this vision and then refined it by listening to our trusted employer clients, and our participants. Now, we're excited to introduce you to HealthFitness360®.

Reaching employees where they are
We know that not only are your work places different now but will continue be different after COVID. Recent surveys have shown:
79% of employers are looking for better digital tools to enable a mix of on-site and remote work
9 out of 10 employees want flexibility in where and when they work
Given this, a sense of community is more important than ever for employees to feel connected. HealthFitness360 brings our programs to your people — wherever they are. HealthFitness360 uses best-in-class technology to deliver best-in-class health and fitness content easily, seamlessly and professionally.

Community and connection
At the core of the HealthFitness360 design is our belief that a sense of community and connection are both essential when it comes to health improvement. We believe this is what separates us from mainstream fitness apps in the market. They're just creating community within their apps. Our high-touch approach allows us to build connections, regardless where participants are — to create a strong community of health.

Making it easy to connect
With HealthFitness360, we're making it easy for participants to connect via desktop, laptop or mobile device. Participants will find more than just fitness classes – they'll have access to a variety of content, including:

1. Live-streamed content
Live events—including fitness classes, stretch breaks, educational seminars, and kid and family classes—are broadcast through professional-grade equipment to provide the highest quality streaming, regardless of device, bandwidth or location.

This means no delays for participants; no screen freezing or cutting in and out. Once a class ends, it is automatically catalogued and available on-demand in short-term library for those who missed the live class (or want to attend again).

2. On-demand content
We have more than 100 health and fitness videos available across 25+ categories, including: cardio, strength, Yoga, progressive workouts, mindfulness, nutrition, mobility and ergonomics.

The HealthFitness360 on-demand library has been created by our HealthFitness professionals across the country and will help fill in any programming gaps. For example, participants would have access to classes such as Yoga, Pilates and dance that their current staff is not specialized in – but that our other staff members at different locations are specialized in.

Our on-demand content also lessens our reliance on mainstream online video platforms, which to some of our participants has a stigma of a website they shouldn't be using during work because of ads and the likelihood of being misdirected to videos they don't intend to watch.

3. Video conferencing
Through video conferencing, participants will experience real-time connections with our professionals for personal and small group training, nutrition coaching, ergonomic consultations and movement efficiency assessments.

Discover how HealthFitness360 comes together for your participants. Connect with us to learn more.

HealthFitness360 is a registered trademark of Health Fitness Corporation.